Your site is alive and well, designed to your liking and company branding. Now it's time to sit back and watch the conversions roll in…
We wish it were that easy!
One of the first steps to increasing website conversions is to include web forms on your pages. Often times, it takes quite a bit of strategy to achieve the amount of web form submissions you're after, and that can be a frustrating process.
Fortunately, we know a few secrets about making awesome web forms that produce results!
It's All About User Experience

Two important aspects of great web forms are convenience and ease of use. So to put it simply, the less information you ask for, the better chance you have of getting that information. Creating a concise and simple web form makes for a quicker and simpler user experience, consequently making a visitor more likely to fill out a web form.
A complex web form that requests a lot of information is overwhelming. The typical short and sweet web form includes a field for the following: name, email, phone number, and a comment box for site visitors to tell you more about their inquiry. In most cases, this information will be all you need to follow up, so it's best to begin there!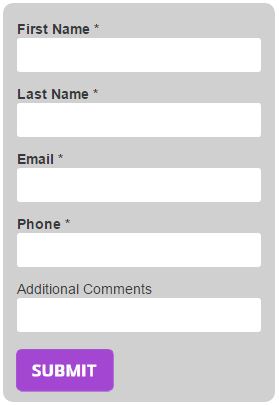 Give Me a Hint

Many web forms or login fields contain sample information in the text box that visitors are to fill out. We call this a "hint," and you can see it pictured below.


Providing hints on your web forms can cut down the time needed to fill them out—it's actually surprising how much of an impact giving a hint can have. Reducing the amount of time users have to spend on your web forms goes back to improving the user experience; the less time it takes to fill out a form, the more convenient it is for the user.
Required Fields

Only require users to fill in the information you truly need. Asking for something that your user doesn't know or doesn't want to provide could cause them to abandon the form and move on.
It may seem impossible to determine what information people will commit to providing, but it's absolutely worth analyzing. Be mindful of what you're requiring, and examine your follow up strategy, because you can always continue the conversation when you follow up via the contact information you've received
In-Line Validation

In-line validation refers to letting the user know when they have entered incorrect data by highlighting the fields in red and providing the correct way to enter information. Sometimes people forget to include the "@" symbol in their email address, or leave a digit out in their phone number—we all do it!
When this happens it's important to make sure your web form doesn't reset the information they've already entered. This is a huge factor that immediately turns off users and leads them to abandon the form. I can vouch for this one myself.
Stick with a web form that notifies users when information is missing, without deleting what they've already provided.
Line of Sight

This is more of a web design/page layout factor than anything else. When your page layout or design points to a web form, it's proven that users are more likely to notice and fill out that web form. This is referred to as "line of sight," as in, directing users' line of sight to the web form.
Pointing to a web form includes tactics like using photos on the page of people looking in the direction of the web form, or leading the line of sight to a web form by means of graphic design. Both are shown below.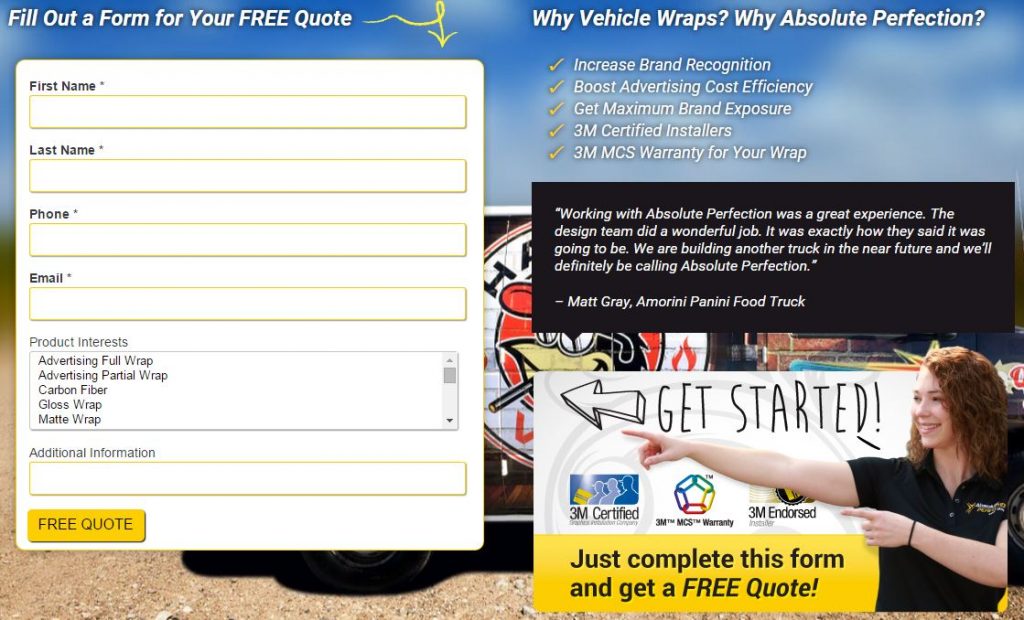 Don't Forget to Say 'Thank You'

You're beginning to receive web forms, so now what? Let visitors know you appreciate their inquiry and are excited to hear more from them by creating an automated "Thank You" message that appears after every submission. It's not only pleasant, but it also lets them know you received their submission and it didn't fall into the black hole of the Internet!
All in all, be creative with your web forms and keep these tips in mind while you build them out. These tips reduce distractions and increase convenience. If done right, you will see an increase in web form conversions!
If you'd rather just have someone do all of this for you, call AP Digital at (800) 968-7981, or even better, fill out a contact form here!