With so many options, the term "online marketing" can be hard to digest. As a business owner, you recognize the importance of having a "strong online presence." The essentials required for being found are a mobile-friendly website, posting to social media, and getting reviews. Once you've got some momentum and can say you're doing all of these things, what's the first question to ask yourself when you're evaluating the success of your online approach?
"How many leads is my website generating?" On a monthly basis, how many phone calls and web form submissions come through your website on a monthly basis? Is it a number you're happy with?
Where to start? Allow us to give you a free, no-hassle consultation. Give us a call at (800) 968-7981 or contact us online for a free consultation!
There's a lot of competition out there. You may find that there are very competitive keywords for which your website fails to appear on the first page. Building new content and links to overtake your competitors can take time, and relying solely on unpaid, natural search can be frustrating.
Fortunately, there's a very powerful form of search engine marketing that can relieve that frustration. It's one of the most highly measurable and precise forms of advertising out there. AdWords, Google's "pay-per-click" search advertising platform, when used correctly, can guarantee your online presence, in your targeted geographic location, for all of the most important keywords relevant to your business.
Google AdWords results are the paid ads that show up at the very top of the Search Engine Results Page, along the right side, and at the bottom. You'll see that those ads have a yellow box next to the result that says "Ad." With their position at the very top of the page, Google gives these ads prime real estate.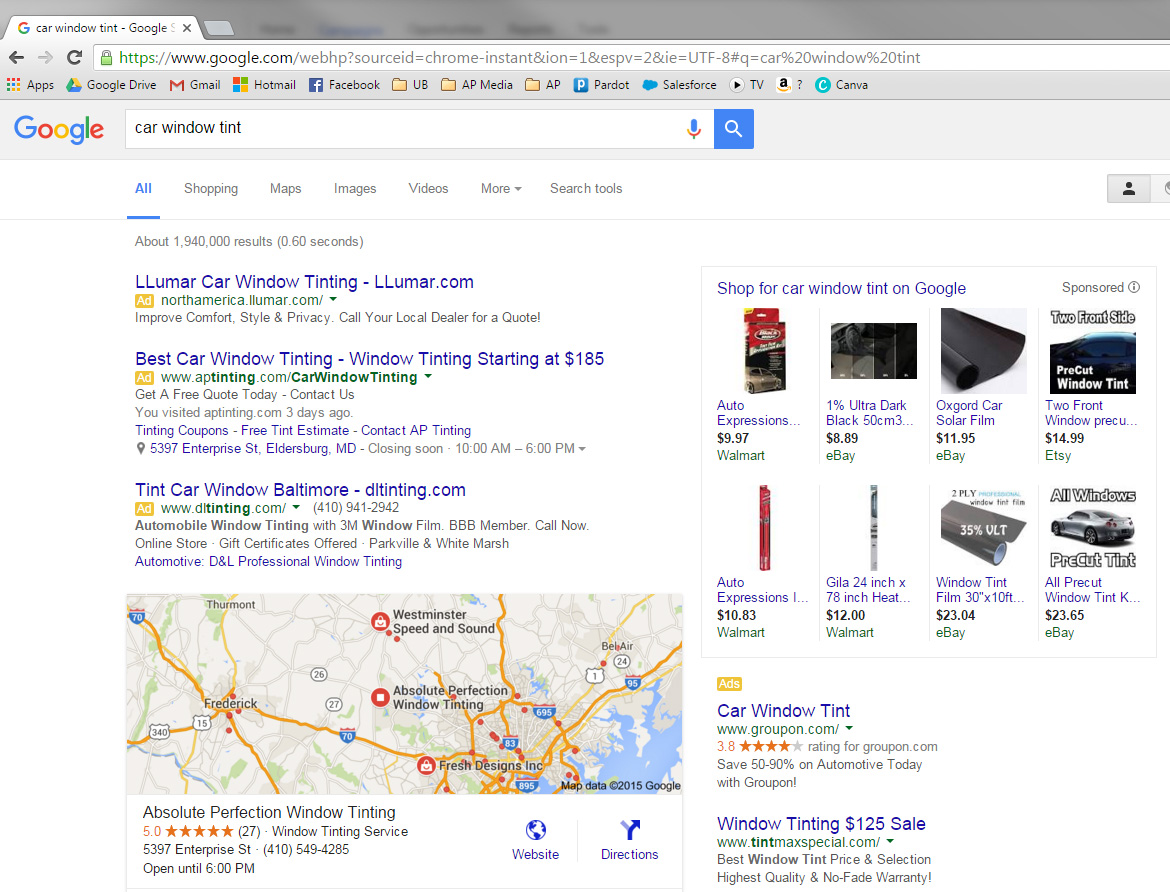 By participating in the bidding process for these paid results, you can immediately compete for top rankings for any keyword. This gives you an advantage over the slow process of optimizing your website for unpaid results.
Some business owners balk at the idea of paying for clicks and are intimidated by the idea of participating in paid search. Won't it be too expensive? How do I know if I'm getting anything out of it? What if my competitors find out that I'm using AdWords, and clicks on my ads until my budget runs out?
We'll answer all of those questions and more. As a Google Certified Partner in Baltimore, we'd like to take you through some of the basics in our AdWords Beginner Guide.
How Does It Work?
Campaigns and Ad Groups – Campaigns separate sets of ads by geographic location and budget. Within each Campaign, you'll have Ad Groups, made up of sets of Keywords with corresponding Ads. This makes sure that people who are searching for a specific service, such as home window tinting, are getting ads built specifically for those window film installation services, and are sent to landing pages relevant to those specific services with a simple contact form and information.
This hierarchy of Campaigns and Ad Groups is crucial to allocating budget, targeting specific areas (down to the neighborhood) and demographics, and keeping your ads and keywords organized.
Geographic Location – Where are your customers traveling from? You should have a good understanding of how far your clients are willing to travel before selecting your target location.
One distinct advantage to AdWords is the ability to target large markets that may be outside of the area Google normally associates with your shop in its unpaid results. If you've had some time to work on your natural or "organic" SEO, you've probably found that it's very difficult to show up on page one for a large market that may be an hour away from your address. That's because Google knows your shop's location, and considers other shops located directly in that market to be more relevant to that market's search results.
With AdWords, you can compete in those markets immediately, simply by setting that location targeting on the campaign level. And keep in mind, in this introductory article, we're only scratching the surface of the targeting capabilities of Google AdWords. With search network (text-based) and display (image-based) ads, it's possible to use very complex demographic and interest-based targeting.
Won't Paid Search Be Too Expensive?
Daily Budget – How much are you comfortable spending? I understand that advertising budgets can be limited. With AdWords, fortunately, you choose your daily maximum budget and can adjust that budget at any time. The advantage with AdWords versus other advertising channels is the advanced tracking tools, which I elaborate on below, allowing you to calculate just how much return you're getting on the advertising budget you're spending.
Once you've tested your budget for a month or so, and have seen which campaigns and ad groups are performing best, you can adjust your budget accordingly.
You'll begin to see an average "cost-per-conversion" which is the amount of money spent into AdWords per phone call or web form inquiry. You can use this data to calculate how much more you'll have to spend into AdWords to generate more leads.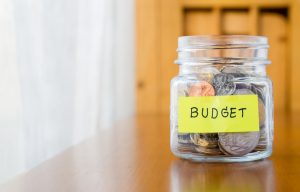 For example, if you're spending $10 per conversion, you'll know that if you increase your budget by $100 per month, it will result in two more leads per month.
Keywords – Put yourself in your customers' shoes. What are they searching for when they need your services? Once you get a good list of keywords, get more specific. If you run a collision repair shop, you can target a wide group of people with a broad search for something like "collision repair" or "auto body shop." If your shop is certified by a manufacturer, take advantage of it with a phrase or exact match ad group targeting keywords such as "Audi certified body shop" or "Porsche certified collision repair." For more help, try using Google's Keyword Planner.
Ads –Once you've built a list of keywords for each of your Ad Groups, you'll need to create the Ads that will show up for those keywords. Ads should be as relevant as possible to the keywords they're connected to. Whenever possible, the keywords themselves should be a part of the ads themselves. Remember, it's all about relevance, and this applies to the page your ad sends the visitor to as well.
Landing Pages and Quality Score – Another crucial component of successful, cost-efficient AdWords campaigns are landing pages. Landing pages are the page the visitor ends up on when they click on your ad. The more relevant your landing page is to your ad, the better your ad will perform.
For example, if someone clicks on an ad for "Paint Repair" and the landing page is a user-friendly, easy-to-navigate page about your paint repair services, it's relevant. The more relevant and easy-to-use your landing page is, the higher the "Quality Score" you receive from Google.
Here we come to an important factor when it comes to the bidding and ranking process in AdWords. "Ad Rank," or the position Google gives your ad in its results, isn't based solely on the amount of money you assign to each ad or keyword. The value of your ad is calculated by an equation that takes both the Quality Score and Bid into consideration.
What does that mean? It means that if you have a very high-quality Score, you can rank higher than a competitor who has bid more but has a lower Quality Score than you do. So, it's crucial that when you're setting up your AdWords campaigns, you create highly relevant, user-friendly landing pages every time you create new Ad Groups.
How Do I Know If I'm Getting Anything Out Of It?
One of the biggest advantages of AdWords is that it's very highly measurable. Not only can you target and analyze traffic based on very specific demographic, location, and interest-based metrics, you can also set up conversion tracking "goals" to find out what Campaigns, Ads, and Keywords are resulting in the most leads.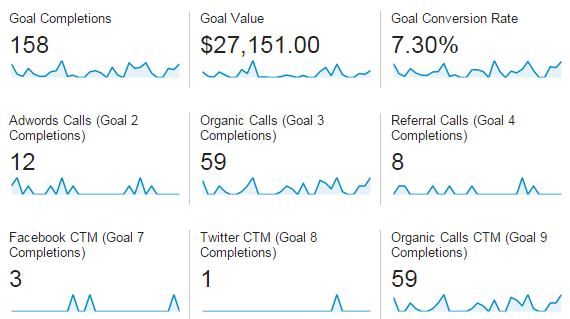 Google provides a tracking code that can be installed on the website to record any time someone submits a web form to request an estimate. I also recommend using call tracking for a complete picture of the number of leads your AdWords campaigns are generating, as many people will come to your website using their smartphone and will call instead of submitting a web form. Google provides free forwarding numbers for its ads to track phone calls, and there are additional cost-effective call tracking programs that can be integrated with AdWords and Google Analytics.
An important word of advice – if you're going to spend money on AdWords, make sure you use conversion tracking. If you don't know which of your ads or keywords are resulting in leads, you can't make informed decisions about what's performing well, and what isn't.
What If My Competitors Are Clicking On My Ads?
One question that's often asked of me is, "Are my competitors clicking on my ads and costing me money?" From a business owner's standpoint, this is a completely valid concern, but AdWords has an answer and it's called "invalid clicks," also referred to as "click fraud."
"Click Fraud"
AdWords filters out and refunds advertisers for invalid or malicious clicks. This could be:
Accidental clicks that provide no value, such as a double-click
Manual clicks intended to increase someone's advertising costs
Manual clicks intended to increase profits for website owners hosting the ads
Clicks and impressions by automated tools, robots, or other deceptive software

AdWords shows advertisers the invalid clicks they aren't paying for in a panel next to their ads. There is also the option to report a case you think may have been missed by the software, but this is a rare occurrence.
For more information, check out this article from Google on Invalid Click Prevention.
When Used Correctly, A Powerful Marketing Tool
Google AdWords can bring a significant increase in leads and sales to your business when used correctly. It's a marketing channel that requires work, as you hone in on the best approach for the highest return. Unfortunately, it's not something that can be just set up and left on autopilot. However, when the right kind of effort is put into targeting your market, creating relevant ads, and building user-friendly landing pages, AdWords can help keep your business out in front of those actively searching for your products or services online.
Thanks for reading our AdWords Beginner Guide. We know the number of options for online marketing can be a bit overwhelming. Allow us to give you a free, no-hassle consultation for the online channels that will deliver the most return on you marketing efforts based on your industry, target market, and demographic.
Give us a call at (800) 968-7981 or contact us online for a Free consultation today!