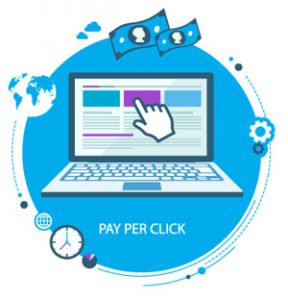 Pay Per Click (PPC) Advertising
Pay-Per-Click Advertising through Google AdWords is essential to generating leads online. AP Digital is an AdWords Certified Google Partner, with a proven track record of providing a large return on their advertising spend.
AdWords results take up prominent real estate at the top of the search engine results page. Often, for keywords with high commercial value, the top four results will be AdWords, followed by Google Maps (Google My Business) listings, with organic results below the fold. If you want to be found in search results, therefore, you need an effective AdWords strategy.
How quickly does AP Digital's Google AdWords strategy begin generating leads?
Below are graphs from 4 different auto body shop AdWords accounts. It illustrates that as soon as our campaigns are activated, they begin generating leads and a return on your investment.
Key: The Blue line is the cost. It shows when Ads begin running. The Orange line shows conversions. Conversions represent Calls and Contact Form Submissions.
Below you can see just how quickly AP Digital's AdWords strategy brings in new leads. As soon as you start paying for clicks, you start getting phone calls and webform submissions. Which means you start seeing a return on investment as soon as your AdWords strategy is active.
Performance-Based Results
Effective advertising on Google does not mean set up and set to autopilot. Similar to SEO, PPC requires ongoing attention, optimization, and analytical decision-making. Strong PPC campaigns receive constant attention from the ads down to the landing pages and everything in between.
"I never click those ads"
Have you found yourself scrolling past the few ads at the top of the page? That happens sometimes. We've also found that those who don't scroll past those ads are the ones that are ready to buy. Google has done a great job of rewarding high-quality paid search campaigns by sending them towards the top of the page.
These campaigns come in various forms, such as Search, Display, and Remarketing; each offering their own set of benefits. The campaigns set up for your company is determined by many factors including initial online presence, internet advertising goals, and available budget.
If you'd like a free website audit or have questions about our PPC services, call us at (800) 968-7981 or click here to contact AP Digital online.