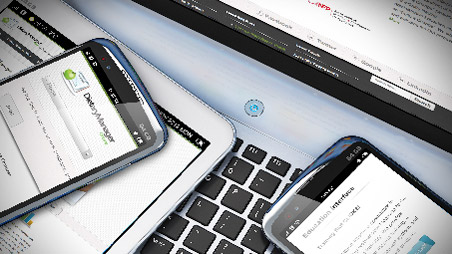 Responsive Web Design
Does your website adapt to all mobile device formats? From cell phones to laptops, your website should be responsive and easy to use on every device. Creating an optimal visual experience for your clients and getting across the mission, products, and services of your company is crucial. On average, web page views last less than a minute. Make that minute count with an ultra responsive and mobile friendly web design.


What Is A Responsive Web Design?
Using a combination of flexible grids and layouts, your site is able to respond compatibly with each user's devices and preferences. Without a responsive web design, website designers and business owners have to create a new layout for each device. That means a new design for every blackberry, iPhone, and Android. And those are just phones. Don't forget desktops, laptops, and tablets. With new products being introduced daily, wouldn't you want just ONE responsive design?
How Could Your Company Benefit From A Responsive Web Design?
The benefit is simple – a responsive web design optimizes website accessibility. One design that adjusts to each user's device makes website use, development, and updating easy. Not only does it make it easier on you, but you'll save money by cutting costs for multiple site layouts and changes. It might even spare you some gray hair.
Did You Know Having Multiple Sites Decreases Your SEO Value?
That's right; Google reads www.example.com and m.example.com as different websites, potentially decreasing your Google PageRank, resulting in less opportunity for website traffic. Google suggests a responsive web design for a smartphone-optimized website and maximum all-around website traffic.
How Do I Make My Website Responsive?
That's where AP Digital comes in. With a full team of web developers, SEO specialists, and graphic designers, AP Digital has the experience and expertise to deliver you the responsive web design you need.
We'd love to see what we can do for you today. Give us a call at (800) 968-7981 or click here to contact AP Digital online.