You've made the right choice to use YouTube for business—there's no doubt about that. Video is a fundamental piece to the digital marketing puzzle for businesses small and large since it consistently dominates content engagement across the web-o-sphere.
In fact, video marketing has consistently grown so much that Cisco estimates video traffic will be 79% of all consumer Internet traffic by 2018. That is a huge amount of traffic dedicated to video! It goes to show that now is definitely the time to take advantage of video marketing, and YouTube, being the second largest search engine, is the perfect platform to do so.
The first steps to take in employing YouTube for business are to designate roles and develop a strategy. Here are some tips on how to do just that!
Create a YouTube Team with Page Managers
As with all marketing efforts, it takes an organized team to effectively implement strategy. About a year ago, Google streamlined managing a company YouTube channel by integrating Google+ and YouTube. Doing so allowed channel owners to add page managers to their channel via personal Google+ accounts. You will learn how to do that shortly!
There are three different management roles that Google allows for YouTube channels: owner, manager, and communications manager. Here are the capabilities of each role:
Owner – The head honcho—there can only be one! As the owner, you can do it all: add/remove managers, delete the account, edit the profile, manage and upload YouTube videos, host Hangouts, monitor social interactions, and view analytics.
Manager – Managers have the same capabilities as the owner with only two exceptions: adding/removing managers and deleting the account.
Communications Manager – This role is predominantly a community management role since monitoring social engagement across the YouTube channel and viewing analytics are the only capabilities.
Whether it's your marketing team, your community managers, or simply your staff that will be tag teaming the management of your channel, it's imperative to designate roles so the strategy you develop is implemented as efficiently as possible.
How to Add Page Managers: A Step-by-Step Guide
For your convenience, we've created a step-by-step guide on how to add page managers. It's an easy and important process that we recommend when implementing YouTube for business!
Step 1: From your YouTube dashboard, click your logo in the top right-hand corner. A menu will drop down.

Step 2: Click the settings icon that looks like a gear.

Step 3: Click the "Add or remove managers" link, and then on the next page click the big, beautiful blue "Add managers button."

Step 4: In the "Invite new managers" box, enter the person you would like to add. You can use their Google+ user name, as shown below, by typing a + before their name (i.e. +Ryan Ballman — that's me!). You can also use their gmail address.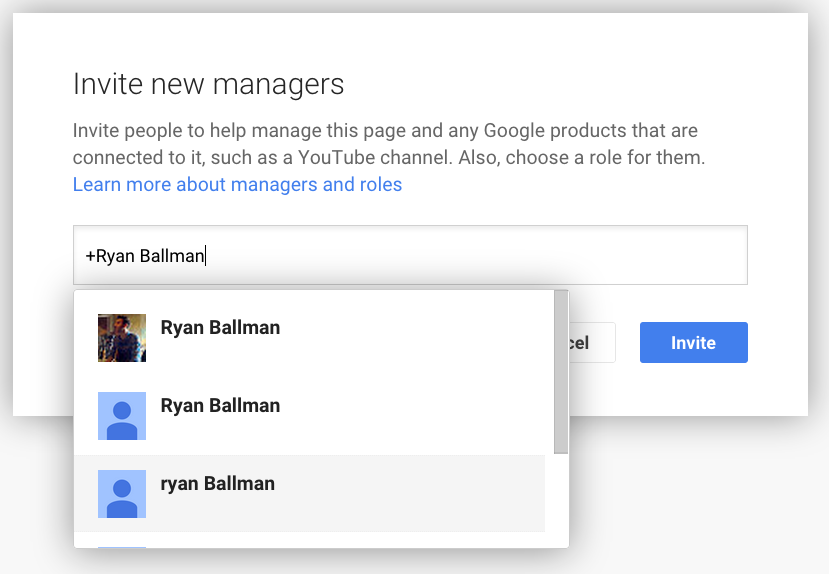 Step 5: After selecting the correct Google+ user or entering the future manager's gmail address, click "Invite."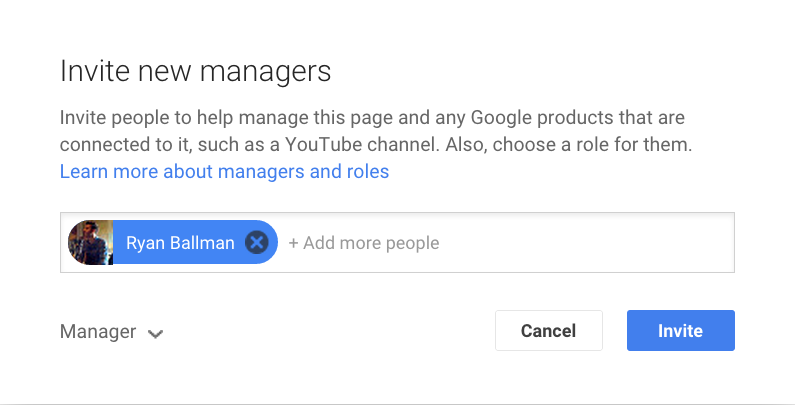 An invite is sent to the invitee's gmail regardless of whether you invited him or her via Google+ username or gmail address. The process is complete when the person you have invited accepts the invite. It's as simple as that! To view your YouTube team, simply complete steps 1-3.
Developing a YouTube Strategy
After adding page managers and designating roles, it's time for you to develop a strategy. Your strategy will be specific to your company's goals, but here are 4 factors every business must take into account to develop a successful YouTube marketing strategy:
YouTubers expect a certain degree of production value. Online video has come to a point where production value truly matters to viewers. There are certainly affordable options for cameras or editing software that can help you achieve decent quality on your own, but to save time and ensure quality production and post-production, you may want to hire professionals to get the most bang for your buck. Your videos will be a major representation of your business after all, so be sure to represent it with the quality it deserves.
Shift your focus from selling to telling. Content marketing has become more about telling a story than selling your product or service—just think about the tear-jerking Budweiser Super Bowl commercial with the puppy! Evoking emotions and laughter is the key to YouTube success. Welcome story telling, your new best friend, with open arms!
The shorter the better. Case studies show that videos under 3 minutes garner more engagement and keep viewers' attention—so perhaps 3 minutes is the maximum length your videos should be. Just remember: the shorter the better. Tell your captivating story as clearly and concisely as possible in order to entice viewers to watch your video in its entirety. If you have a long story to tell, break it up into a web series!


Infographic by Buffer

Contribute to the conversation. Once your video has sparked conversation on the comments thread, it's crucial that you respond to any questions and contribute to the conversation. Visit Creator Studio from the YouTube homepage by completing step 1 from above: click your logo in the top-right corner, and then select Creator Studio. The Community section will show you all the comments on your videos. Content marketing is both proactive and reactive. You create content to garner engagement, but you drive home your strategy by contributing to the conversations viewers are having.
Keep it Up
Once your team and strategy are put together… Keep it up! Keep the content flowing by brainstorming and collaborating—you have plenty of stories to tell, whether they're about your company culture, values, mission, or customer testimonials.
If you'd like feedback from our video production professionals on your current videos, or some ideas you're tossing around, give us shout at (800) 968-7981 or fill out a contact form. We would love to help you get started using YouTube for business!